Shipping
Shipping Information
Note: This map is for illustration purposes only
Estimated delivery time in business days
Pink= 2-4 business day
Blue= 3-5 business days
Orange= 4-6 business days
Green= 5-7 business days
Purple= 6-8 business days

Saturday & Sunday are not business days
Shipping to Canada, Hawaii, Peurto Rico, Alaska & all other locations is through USPS. Customer is responsible for all shipping charges & any additional postal fees.

We cannot guarantee delivery time nor can we be responsible for weather related delays of shipping.
Fedex does not deliver to P.O. Boxes
Typical order process...
Orders received by 5:00PM ET are typically shipped from our warehouse within 3 business days.
Orders received after hours, or on weekends & holidays will be processed on the next business day & shipped from our warehouse within 3 business days.
The total estimated time until an order is received may be viewed on the map at the top of this page.
Shipping charges explained...
We sell both retail & wholesale products on our website.
Retail products ship with "One charge Flat rate shipping" This means no matter how many Retail products you add to your cart the shipping charge will not change.
We also sell wholesale bulk/case packed items. These items pay the live rate cost which we are charged by Fedex. This means for every wholesale item you add to your cart the shipping charge will increase.
So why are my shipping charges high?
The short answer is because Fedex & UPS are now charging "Dimensional weight shipping" for all ground shipments. This causes a box with an actual weight of 10 lbs to have shipping charged as if the box weighed 23 or more.
Our wholesale bulk/case packed items generally each ship in its own individual box. These items do not weigh a lot but the items are large & bulky & they take up a lot of space. "Dimensional Weight Shipping" calculates space rather than weight.
As of January 2015 Fedex & UPS have both implemented "Dimensional Weight Shipping"
Dimensional weight is the weight of a package based on its size rather than "actual weight". UPS and FedEx are implementing dim weight pricing in 2015 for their ground-based services and the heavier of actual weight or dim weight will be used to price packages.
To calculate, you will first determine the package dimensions in inches. For each package dimension, measure at the longest point, rounding each measurement to the nearest whole number (for example, 9.00 to 9.49 will be considered 9, and 9.50 to 9.99 will be considered 10).
Then, multiply the package length by the width by the height and divide by 166 (139 for packages headed to Canada). The result is the dimensional weight. For those services where dimensional weight is relevant, take the greater of this calculation or the actual, scale based weight to calculate the shipping cost.
Why are Fedex & UPS charging Dimensional Weight Shipping?
They want to be paid for the space that is occupied on their trucks and planes for big, lightweight packages.
How does this affect me the customer?
Tthis means that a box which weighs 39.6 lbs will have shipping charged as if it is 70 lbs, & this increases the shipping charges.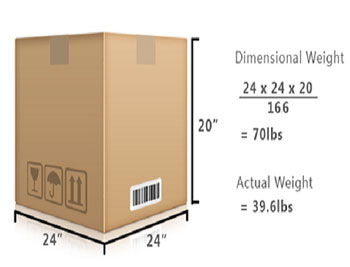 Fedex Holiday Schedule...
Fedex observes the following holidays & rest days:
Memorial Day
Independence Day
Labor Day
Thanksgiving Day
Christmas Day & the day prior to Christmas Day
New Years Day & the day prior to New Years
Rest days are Saturday & Sunday
On these days there will be no Fedex pick-up from our warehouse and no delivery of any packages. Please add an extra 2 days in transit time for packages shipped before the above listed holidays.